Congratulations to ICE 2018!
ICE 2018 is completed and our hosts in Chiba City, Japan put on an outstanding joint meeting: 45th International Congress on Electrocardiology and the 18th Congress of the International Society for Holter and Noninvasive Electrocardiology. Visit the 2018 ICE Web Page to see images from the meeting.

Start planning for ICE 2019, which will be May 30-June 1, 2019 in Belgrade, Serbia. Stay tuned to the ICE 2019 Web Page for details as they start to come together.
See the
News Page
for the most recent content
---
In Memory of Pentti Rautaharju
It is with great sadness that we advise of the death of Pentti Rautaharju on Tuesday, August 7th, 2018.

Pentti was a real father figure who made a huge contribution to electrocardiography from the introduction of the Minnesota Code in 1960 through so many computer-assisted studies, with a particular interest in epidemiology.

He was a strong supporter of the International Society of Electrocardiology (ISE), was a member of the Council, and organized the 1993 meeting in Kananaskis.
Pentti will be fondly remembered and sadly missed by so many.
Our sincere condolences are offered to Pentti's wife Farida and family.
---
Report on the 14thAnnual Conference of the European Cardiac Arrhythmia Society
April 15-17, 2018
Paris, France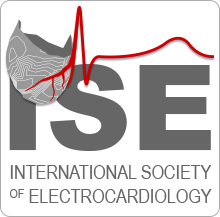 For the first time the International Society of Electrocardiology and the International Society for Holter Monitoring and Noninvasive Electrocardiology organized a joint session at the ECAS annual conference. The topics were selected to represent an overview of current directions in research in electrocardiology. The importance of P-QRS-T morphology changes recognition in identifying the potential substrates for arrhythmias was accented.
Surface ECG in the 21stCentury (ISE-ISHNE-ECAS Joint meeting)
April 16, 2018
Chairpersons:
Ljuba Bacharova, Bratislava, Slovakia; Niraj Varma, Cleveland, USA
Speakers:
Antonio Bayes de Luna (Barcelona, Spain):P-wave: The past, the present and the future.
Peter Macfarlane (Glasgow, United Kingdom):Update in early repolarization.
Ljuba Bacharova (Bratislava, Slovakia):Definition of LBBB: does it matter?
Philippe Chevalier (Lyon, France):VF risk in Brugada type I ECG patients: is the ECG the key?
Ljuba Bacharova
Niraj Varma
---
Upcoming Conferences and Events